Breast augmentation was first performed over one century ago and is one of the most popular elective procedures plastic surgeons perform. Today, advances have made this treatment one of the most popular cosmetic enhancements in the nation, one that can provide dramatic yet natural-looking results and a boost in confidence. When considering breast augmentation, seek consultation with an experienced plastic surgeon, such as Dr. Stephen Herring, who is certified by the American Board of Plastic Surgery. You should also ask questions to help you make an informed decision.
Breast Augmentation Quick Facts
Procedure

Enhance the size of breasts using inflatable implants filled with saline or silicone gel

Length

1–1.5 Hours

Anesthesia

Local with sedation or general

In/Outpatient

Usually outpatient

Side Effects

Temporary soreness, swelling, change in nipple sensation, bruising. Breast sensitivity to stimulation for a few weeks.

Recovery

Back to work: a few days. Physical contact with breasts: 3 to 4 weeks. Fading of scars: several months to a year or more.

Duration of Results

Variable
What Is Breast Augmentation?
Breast augmentation is a procedure that enhances the size and shape of the breasts by placing prosthetic devices (breast implants) underneath the breasts. Breast augmentation has been performed commonly since the 1980s with the number of women with implants well into the millions. While the goals of breast augmentation have remained the same since that time, the breast implant technology has improved, the surgical techniques have improved, and the options for the patient to choose from have increased. There are many options available for breast augmentation.
Goals of Breast Augmentation
Increase the size of the breasts and improve the shape of the breasts
Improve the proportion and the balance of the entire figure
Improve appearance in clothes and bathing suits
Improve self-confidence and self-image
Am I a Good Candidate for Breast Augmentation?
The decision to get a breast augmentation, which is an elective surgery, is a personal one. The more common physical reasons for getting a breast augmentation are listed below.
Increase the size and contour of the natural breasts
Restore breasts that have changed following weight loss (including gastric bypass), after pregnancy, or from the aging process
Improve the breast proportion with the rest of the body (so that the breast size fits with the shoulder width and hip size)
Improve the balance (symmetry) of the breasts so that one breast is not significantly larger than the other breast
Lift the breasts higher on the chest wall
Some of the comments women have made to Dr. Herring as specific reasons for getting breast implants include:
"I want to be able to look good in a bathing suit."
"I want to be able to wear a low-cut dress without padding."
"I want to be able to fit better in my clothes."
"I want my breasts to match my hips."
"I want to be able to wear a t-shirt or a tube top and look good."
"I want to have more confidence in myself."
In addition to these considerations, you should be in good general health and have reasonable expectations for the outcome. Dr. Herring and our medical team will discuss what can be achieved based on your anatomy and preferences to help you understand what to expect. We also welcome your questions and hope to serve as partners in your progress.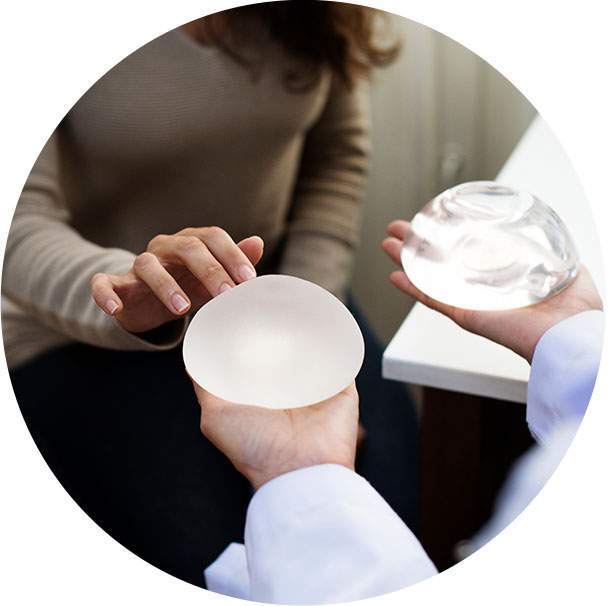 What Are My Breast Implant Options?
Dr. Herring will explain the options for your breast augmentation surgery. Just as no single key fits every lock, no single surgery procedure fits every patient. It is for this reason that the personal consultation for breast augmentation be performed by a plastic surgeon. Once your specific situation is determined, and your goals are discussed with the plastic surgeon, then you can make the decision regarding your breast augmentation.
Types of Breast Implants
There are two main types of breast implants available for breast augmentation:
Saline-filled implants
Silicone gel (cohesive gel, "gummy bear") implants
There are advantages and disadvantages to both implant types. Dr. Herring uses both types of implants and will discuss these at the time of your initial consultation.
Breast Implant Placement
There are four different locations that the implant can be placed during breast augmentation. The different locations all have advantages and disadvantages, and Dr. Herring will discuss these at your consultation. The choice of implant placement is based on many factors, and this is decided before the day of surgery. The primary factor is the amount of breast tissue that is present. Just as with other cosmetic procedures, there is not one single placement in breast augmentation that best fits every patient.
Breast implants are always placed below the breast gland. They can also be placed below part or all of the chest muscle. The purpose of placing the implant under additional layers of muscle is to make the tissue covering the implant thicker. In thinner patients with very small breasts it is better to have more layers of tissue covering the breast implant. Your implant placement options are: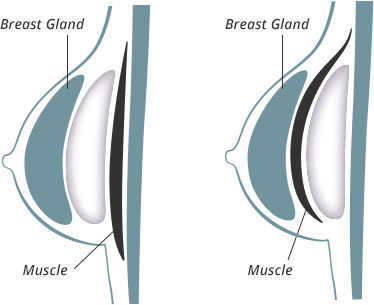 Above the muscle and underneath the breast gland – This means the breast implant is covered by the breast gland.
Below the fascia (the covering of the muscle) and underneath the breast gland – This means the breast implant is covered by the fascia and the breast gland.
Partially below the muscle and underneath the breast gland – This means the top half of the breast implant is covered by the fascia, the breast muscle, and the breast gland, and the bottom half of the implant is covered by the breast gland.
Completely below the muscle and beneath the breast gland – This means the breast implant is completely covered by the muscle and the breast gland.
Dr. Herring uses all of the placement positions listed above in performing breast augmentation and, along with the patient, will decide which one is best for you. The final decision for the implant position is made by you after considering and discussing all the factors with Dr. Herring.
Breast Implant Shapes
There are two general shape categories for breast implants: round and anatomical. The key advantage of round breast implants is that they are able to rotate freely within the breast pocket without creating an abnormal breast appearance. Round implants are also available in low profile, moderate profile, and high profile styles—the latter of which creates the greatest projection—to accommodate a patient's unique aesthetic desires. In contrast, anatomically shaped breast implants are designed to more closely resemble natural breast contours, meaning there is more fullness at the bottom of the implant and less at the top. While this creates an exceptionally natural appearance in proper candidates, the possibility for anatomical breast implants to shift within the breast pocket does exist, which could lead to a misshapen or bizarre breast look.
At the time of your consultation, Dr. Herring can discuss all advantages and disadvantages of both round and anatomically shaped implants, helping you select the best option for your needs and goals.
Breast implant Sizes
The choice of breast implant size is a personal one. In general, most patients want to be in proportion. When choosing an implant size, you likely want a size large enough that there is a visible difference after the surgery. At the same time, you might not want to choose a breast implant that could cause health problems or appearance concerns at a later time due to its size. Implant sizes vary widely, and a patient who weighs 105 pounds would not need the same size breast implant as a patient who weighs 200 pounds.

By far the best practice I have ever used. Doctor and staff are the greatest. Personal care 24 hours a day from day and one. Would never go anywhere else,

Catina Holland

April 08, 2021

12345
I had a breast augmentation (went larger) and can't be happier with my results! They look better then I ever imagined and my confidence is at an all time high! The procedure was quick, recovery went extremely well, and the staff always made me comfortable!
Breast Augmentation Before & After Photos
Dr. Herring has performed breast augmentation for over thirty years. Please explore examples of his exceptional surgical results in the slideshow below.
What Is Breast Augmentation Recovery Like?
Recovery after breast augmentation, based on observations of many patients, is usually not very long. Daily living activities often can be resumed after 24 hours. Over the next three weeks, activity can be increased gradually. By the end of the third week, full activity can be achieved for most patients. There is some discomfort after breast augmentation, but most patients report that the pain is about a 2 out of 10 on the subjective pain scale, with 1 being minimal pain and 10 being severe pain. Dr. Herring is aware of the importance of pain control after breast augmentation and follows all patients very closely until they are out of the post-operative pain period. During that time, Dr. Herring makes sure that all patients have the appropriate amount and type of pain medicine to control discomfort.
There are no limitations on activities for breast augmentation patients once the healing period is completed. Patients that have gotten breast augmentation have engaged in skydiving, martial arts, tennis, jogging, motorcycle riding, scuba diving, and almost any other activity imaginable without difficulty or problems.
Will I Have Breast Augmentation Scars?
Every surgical procedure requiring an incision will result in some degree of scarring, and breast augmentation is no different. Fortunately, the incision options utilized by Dr. Herring are made in rather discreet areas: inside the armpit, in the dark pigmentation of the areola, or in the area of the natural crease underneath the breast. When postoperative guidelines and scar management instructions are closely followed, these incisions tend to heal quite nicely, eventually becoming inconspicuous in most patients. In fact, Dr. Herring's patients typically have no issues or concerns about the appearance of breast augmentation scars once full healing and maturation are complete.
How Long Do Breast Implants Last?
Breast implants can last for a long time without the need for replacement. In answering this question, it is important to distinguish between saline filled breast implants and silicone breast implants. No matter what predictions are made about how long breast implants last, the only way to accurately predict how long breast implants last on average is to observe them in real life in real patients. Until they have been tested in real life, nobody actually knows how long breast implants last. Because saline breast implants have been used routinely for much longer than the new silicone breast implants, there is more information about how saline breast implants last compared to silicone breast implants.
Breast implants manufacturers have written that the implants last for 10 years or more, but Dr. Herring and other surgeons have many patients that have had the same saline breast implants for over 20 years without any problems. The newest generation silicone breast implants have been around for a shorter length of time, so less information is available about that type of implant. Both saline breast implants and silicone breast implants have advantages and disadvantages, and Dr. Herring will discuss that information with you at the time of your consultation.
How Much Does Breast Augmentation Cost?
The average price of breast augmentation at our practice is $6,400*, and this number includes most associated care costs, including the facility fees, anesthesia fees, surgeon fees, implants, and follow-up visits after the procedure. We are able to offer such a competitive rate because Dr. Herring performs the procedure in our on-site facility, which also offers improved privacy and convenience to the patient. During your initial consultation, we will review the parameters of your treatment plan and discuss the full cost of your program. If you would like to consider plastic surgery financing, we can provide details on reputable lenders we work with who may be able to help. Everyone should have access to the care they want, and we're here to help you achieve your goals.
More Information About Breast Augmentation
Want to know more? We're here to help. Dr. Herring has provided answers to a number of other questions patients often ask. For personalized information please contact our practice to schedule a consultation.
Is breast augmentation safe?
Breast augmentation surgery is generally considered safe if the patient follows some common sense guidelines. First, a consultation with a properly trained plastic surgeon is important. Certification by the American Board of Plastic Surgery is also an important consideration when considering breast augmentation. During the consultation for breast augmentation surgery the patient should explain their general expectations of the surgery, and those expectations should be realistic. Second, when considering breast augmentation surgery the patient should be sure that they understand the before-and-after surgery instructions. It is important to follow these instructions after breast augmentation surgery for your safety. Third, be sure that your surgeon plans for proper follow-up visits after breast augmentation surgery, and that you honor these appointments. Failure to schedule or honor appointments after surgery places the patient at risk. Patients who have breast augmentation surgery should have life-long follow-up, preferably with the plastic surgeon that performed the surgery.
Finally, it is important to understand that breast augmentation, while greatly improved over the past forty years, is not perfect. During that time, breast augmentation implant materials have improved, breast augmentation surgical techniques have been re-analyzed, imaging (X-ray) technology and radiology skills have improved, and evidence-based medicine has become more prevalent.
Will I also need a breast lift with my breast augmentation?
As a result of the natural aging process, patients may notice drooping of the breasts, also known as ptosis. Breast augmentation patients who have nipples that point downward or sit below the crease underneath the breast may be recommended a breast lift with their augmentation surgery. Dr. Herring can often perform these two procedures at the same time to improve the volume and "perkiness" of the patient's breasts simultaneously. Combining these two procedures can lift the breasts, reposition the nipples, and increase breast size and shape to achieve your desired results. During your consultation, Dr. Herring will carefully evaluate your breasts to determine if a breast lift will also be necessary to achieve your overall goals.
How painful is breast augmentation?
Pain after any surgery can vary depending on a person's individual pain tolerance. Patients with a higher tolerance for pain can usually cope with discomfort a bit better during the recovery process. Overall though, breast augmentation is not as painful as you might think. The first three to five days after surgery are typically when patients feel the most discomfort, but within two to three weeks the majority of those symptoms have often dissipated. Additionally, during the recovery process, most patients can easily manage any discomfort by taking over-the-counter pain medications. Dr. Herring will also provide detailed instructions on what to do following breast augmentation surgery in order to promote proper healing and help you experience less pain while you recover.
Should I feel embarrassed that I want breast implants?
No. You should never be embarrassed for wanting to improve yourself. Millions of women have had breast augmentation for that reason, and the satisfaction rate for breast augmentation is very high. Dr. Herring has performed thousands of breast augmentations and understands the reasons patients seek this operation.
Will I need to massage my breast implants after augmentation?
To keep the breasts soft and supple, many surgeons recommend massaging the breasts after breast augmentation surgery. A breast massage can also help prevent and/or treat problematic "capsule" formation that may cause discomfort for the patient. To learn more about the importance of a breast massage after breast augmentation, we invite you to read our blog post on this specific topic.
What is capsular contracture and should I be concerned about it?
When a foreign object is placed in the body, the immune system naturally responds by forming a "capsule" of scar tissue around it to create a barrier between the object and adjacent tissues. In the case of breast implants, this capsule formation is generally a good thing, as it can help hold implants in an ideal position inside the breast pocket. However, in some instances the scar capsule can become excessively hard and contract around a breast implant. This capsule hardening and shrinkage is known as capsular contracture, and it can potentially result in an unnatural appearance and/or feel for the breasts—and sometimes even discomfort.
When performing breast augmentation, Dr. Herring makes every effort to prevent capsular contracture from occurring in his patients. This includes advising against smoking for a period of time before and after surgery, selecting correctly sized implants for each individual's anatomy, and optimizing cleanliness during the procedure to reduce bacterial contamination.
Ultimately, it is impossible to avoid capsular contracture with one hundred percent certainty, but as a highly treatable condition, the fear of developing capsular contracture should not be the sole reason a woman who desires breast augmentation chooses not to pursue surgery.
What is BIA-ALCL, and should I be worried about it?
BIA-ALCL stands for breast implant-associated anaplastic large cell lymphoma. It is a very rare cancer of the immune system that has affected a very small number of women throughout the world who have breast implants, primarily individuals who have certain types of textured or "rough" implant models. Patients who are not feeling or exhibiting any irregularities affecting their breasts or the implants should not be excessively concerned about BIA-ALCL. Women who have had breast augmentation and are developing symptoms should make an appointment with their primary care physician and plastic surgeon as soon as possible to get a proper diagnosis. If you have any further questions or concerns regarding BIA-ALCL, please feel free to contact our office and Dr. Herring will be able to help you further.
Where is the best place to get the most accurate information about breast augmentation?
In general, the more information you have about breast augmentation the better. It is very important to get accurate information, and while there is accurate information readily available, there is also inaccurate information out there. There are two general types of information regarding the breast augmentation procedure. One type of information is scientific information. This information is the same no matter which plastic surgeon you visit in consultation. The second type of information is the professional opinion of your plastic surgeon regarding breast augmentation. The professional opinions about the breast augmentation procedure will vary from surgeon to surgeon, but there will be a general commonality when talking to a plastic surgeon certified by the American Board of Plastic Surgery.
The best source for information regarding the breast augmentation procedure is a consultation with a plastic surgeon trained to perform this procedure. Patients can get information about breast augmentation from a number of resources, including the internet, from health care professionals, and from personal communications with friends, but none of these sources are as good as a consultation. First, the plastic surgeon has had more training and more experience than any other group in the breast augmentation procedure. Second, every patient's situation for breast augmentation is different, and the plastic surgeon is best qualified to diagnose the exact situation, and make a recommendation or recommendations to the patient. Dr. Herring has performed thousands of breast augmentation procedures over a period of 30 years and can help you decide which options are best for you.
How much time should my doctor spend with me during the consultation for breast augmentation?
Your plastic surgeon should spend as much time with you as you desire. In some situations, patients may even request a second or a third consultation with their plastic surgeon, and that request should be honored. You should have the opportunity to ask any and all of the questions you might have, and to receive any additional information you request.
What is informed consent?
Informed consent is the process by which you receive information regarding breast augmentation, so that you can make an "informed" decision regarding your procedure.
Informed consent is a shared responsibility of the plastic surgeon and the patient. It is the plastic surgeon's responsibility to provide all of the information that the patient requests about breast augmentation in addition to the printed information that is given to every patient. It is also the plastic surgeon's responsibility to answer any and all patient questions regarding breast augmentation.
It is the patient's responsibility to learn about and to ask questions about breast augmentation. Only after a consultation, study of the printed materials, and asking questions, can the patient make an informed decision about breast augmentation.
When I get my breast augmentation, will I be awake or asleep?
A good general principle regarding surgical procedures is the amount or level of anesthesia used should be appropriate for the procedure. During breast augmentation, two types of anesthesia are typically used. Sedation is used to relax the patient so that there is a general unawareness of the breast augmentation procedure. Because the procedure is not as complicated as some operations, less sedation anesthesia is needed. In addition to the sedation, local anesthesia is also used. The combination of these anesthesia techniques means that the patient has no memory of the surgery and experiences no discomfort during the procedure.
Do I need follow-up after my breast augmentation?
Yes. After your breast augmentation you should receive close follow-up with your plastic surgeon for about three months. After that time, you should still get routine follow-up and breast screening, but at that time your primary care physician can take over your care, if you so desire. Any patient that undergoes the breast augmentation procedure should have life-long follow-up of the implants.
What if my implant leaks or ruptures?
If a breast implant leaks or ruptures after surgery, then it should be replaced. In general, it is thought that there are no serious health risks when a breast implant leaks. The breast implant exchange process is similar to the initial procedure. The recovery for replacement of a breast implant, as reported by most patients, is easier than the initial operation.
What if I change my mind about breast implants later in life?
There are many reasons why a woman may want to remove or replace their breast implants later on in life. If you simply no longer wish to have breast implants, you may be a good candidate for breast implant removal, also called an explant procedure. Women who desire a different breast implant size, type, or shape may be eligible to undergo a breast implant replacement surgery. Based on your unique needs and desires, your plastic surgeon can help develop the best treatment plan for you.
Is there a guarantee or warranty on my implants?
At the time of this writing, there are companies that have a warranty on their breast implants. The up-to-date details of the warranty information will be discussed by Dr. Herring at the time of your consultation.
Is it possible to breastfeed after breast augmentation surgery?
Yes and no. Many patients that have had breast augmentation have been able breastfeed without problems. There is always a chance that you will not be able to breastfeed after breast augmentation, and this may be an important consideration.
When can I drive after breast augmentation?
You will likely be able to drive the day after surgery as long as you are not taking any strong pain medicine and you do not have any residual anesthesia from the procedure. Generally, it is better to wait until the second day after the surgery to drive to be on the safe side.
What type of bra should I wear after breast augmentation?
A sports bra is usually recommended after breast augmentation because of its good support and lack of sharp edges—though this does not mean you cannot wear any other types of bras after the initial healing period. At the time of your consultation, Dr. Herring will discuss the best bra options for you based on your specific implants and anatomy.
Can I still get mammograms after surgery?
Yes. You can get mammograms after breast augmentation, but you should go to an imaging center that is familiar with the special techniques used for patients with breast implants.
Should I still get mammograms after surgery?
Yes. You should get all breast screening through your primary care physician.
Can I get another surgery at the same time I get breast augmentation?
Yes. In most circumstances you can get multiple surgical procedures at the same time. For example, you can get a breast augmentation and a tummy tuck at the same time as part of a Mommy Makeover.
Contact our practice today to schedule a consultation and find out if breast augmentation is right for you.