Following a plastic surgery such as liposuction or a breast enhancement procedure, our patients often wonder when it is safe to return to full activity. Research conducted within the last thirty years has suggested that the rules regarding returning to full activity after surgery have changed dramatically; however, the fact remains that the term "full activity" means different things to different people. Return to full activity in part depends on the type of procedure(s) performed, and there is no universal set of rules regarding return to full activity after plastic surgery.
That said, in this context, returning to "full activity" means resuming relatively strenuous activity
While remaining inactive after surgery can result in problems with healing, returning to full activity too soon after surgery can also complicate recovery. In general, it is beneficial to practice daily living activities (i.e., those required to independently care for oneself) immediately after surgery.* The illustrations below represent the various levels of activity which should be followed at different stages of recovery from plastic surgery.
The graph below diagrammatically represents activity after surgery that would be below the desired and expected level. In this example, the patient did not achieve a significant activity level three weeks after surgery. In most circumstances, if it has been three weeks since the procedure, the patient should be at (or close to) full activity. Activity at a very low level could be detrimental to the recovery process.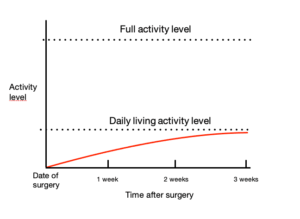 The graph below represents activity after surgery that would be above the desired and expected level. This patient became very active immediately after surgery, which could be detrimental to the recovery process.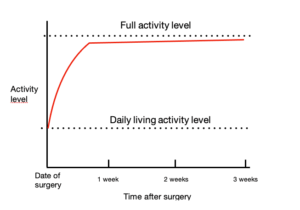 The example below represents a gradual increase in activity after surgery. This patient achieved daily living activities the day after surgery, which is the desirable level of activity the day after surgery in most cases. The patient then increased activity gradually, starting at daily living activity and achieving full activity three weeks after surgery.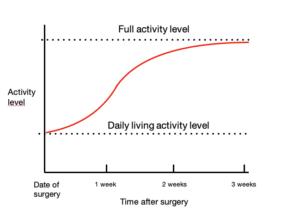 During this three-week period, certain activities should be delayed. For example, extreme sports (e.g., skydiving) should be avoided at the three-week mark; however, routine exercise is unlikely to cause any healing problems in most patients.
Furthermore, keep in mind that each patient recovers at their own rate. Our board-certified plastic surgeon, Stephen Herring, MD, will guide you through your recovery period based on evaluation of your progress at each follow-up appointment.
If you have questions regarding your care or if you are considering traveling from out of town, please contact our office today.
*Recovery after plastic surgery varies widely depending upon the procedure and the individual patient. This blog is presented as general information only.
Previous Post
Next Post