Oversized breasts (macromastia) have been linked to a wide variety of physical problems, including neck pain, backaches, numbness in the hands and fingers, migraines, and shortness of breath. As women age, having large breasts can even make the shoulders roll forward, causing the thoracic outlet to compress—this is the area where the shoulder blades, ribs, and nerves pass through a narrow triangle. The bigger the breasts, the more the shoulders pull forward, thereby increasing the compression. Over time, this will generally cause significant discomfort.
While ergonomic changes, medication, and physical therapy can help alleviate the pain associated with large breasts, these are typically only temporary solutions. For an effective long-term solution to issues related to oversized breasts, breast reduction surgery is often the best option.
Breast Reduction Quick Facts
Procedure

Reduce, lift, and recontour the breasts for improved physical comfort and an enhanced breast shape/position on the chest

Length

Approximately 2–3 hours

Anesthesia

General anesthesia or IV sedation with local anesthesia

In/Outpatient

Usually outpatient

Side Effects

Temporary bruising, tenderness, and swelling; possible changes in nipple sensation

Recovery

Return to non-strenuous work: a few days; all restrictions lifted: approximately 3–4 weeks; scarring: gradual fading over several months to a year, sometimes longer

Duration of Results

Variable
What Is a Breast Reduction?
Overly large breasts are generally a result of excessive growth during adolescence and/or substantial weight gain as an adult. In addition to excessively large breasts, these typical causes can also create breast shape and size asymmetries, resulting in breasts that do not match.
Breast reduction—medically referred to as reduction mammaplasty—is a surgical procedure that reduces the size of the breasts while also enhancing their shape, symmetry, and position on the chest. This is achieved by removing excess breast tissue, rearranging the internal architecture of the breasts, and tightening the overlying skin. The techniques used for breast reduction have advanced over the years, and the present surgical methods are able to achieve improved long-term results and exceptionally natural-looking outcomes.
Goals of Breast Reduction
Remove excess tissue to achieve a smaller, more proportionate breast size
Enhance the overall contour and position of the breasts
Improve breast symmetry
Reduce strain on the back, shoulders, and neck
Achieve a better fit for a wider variety of clothing
Boost self-confidence and self-esteem
Board-certified plastic surgeon Stephen Herring, MD has performed numerous breast reductions over the past thirty-plus years, and the procedure has a very high satisfaction rate among his patients. Following treatment, many women report a dramatic improvement in lifestyle—and some even lose weight as a result of increased activity. If you are interested in breast reduction, Dr. Herring would be happy to develop a customized treatment plan based on your unique needs and goals. Simply contact us today to schedule a consultation.
"Dr. Herring and staff are very informative and nice. All questions were answered in full. The recovery time and results far exceeded my expectations. I am very happy I chose Dr. Herring for my reduction mammaplasty. Best of all my neck and back pain are gone!"
Who Is a Candidate for Breast Reduction?
The primary indication for breast reduction is excessive size of the breasts. Secondary indications are breast sagging (ptosis) and misshapen breasts. Disproportionate growth of the breast can occur in adolescence, or it can occur in adulthood with weight gain. The key concept to understand is the importance of the proportion of breast size to the size of the body. The ideal breast to body size ratio will be different for a woman who is 6′ 2" compared to a woman who is 5′ 0". Other factors are also important in the concept of proportion, including weight, shoulder width, muscle mass, and personal preference. Large breasts frequently have sagging, and this is also corrected at the time of breast reduction surgery. In some patients, there is a significant difference in the size of the breasts, and this can be improved with breast reduction so that the breasts match better.
Below are a few comments that patients have made to Dr. Herring throughout his years in practice as reasons for pursuing breast reduction:
"I have chronic neck, back, shoulder, arm, and breast pain."
"I have difficulty finding clothes that fit properly."
"I am being teased by my peers about my excessive breast size."
"I can't participate in certain sports and physical activities."
"I have gained weight as a result of inactivity."
"I want to feel more confident in myself and my appearance."
Further considerations for breast reduction candidacy include plans to breastfeed, one's smoking habits, and any weight loss goals. If you want to breastfeed after undergoing a breast reduction, it is typically possible as long as your nipple was not repositioned. However, if you are really concerned about breastfeeding, then it is recommended that you put the surgery off until you are sure you will not be expanding your family. If you are a smoker, you will need to quit smoking at least four weeks before the surgery, preferably with no intention of resuming afterwards. Lastly, if you plan to lose a large amount of weight, it is generally advisable to wait until the weight loss is completed prior to getting a breast reduction.
At the time of your consultation, Dr. Herring will discuss all candidacy requirements with you in full detail, answering any questions you may have to ensure you are comprehensively informed about breast reduction and whether or not it is right for you at this time.
Is Breast Reduction Covered By Insurance?
While breast reduction is deemed medically necessary in many cases, there are instances in which it is considered an elective procedure—meaning all expenses would be out-of-pocket and not covered by insurance. In this circumstance, Dr. Herring may be able to perform the surgery in the office setting, which is typically less expensive than the hospital setting. You may also choose to use plastic surgery financing to help with the expenses.
How Is the Breast Reduction Procedure Performed?
There are many different ways to perform a breast reduction, but the primary objective of every method is the same: remove excess tissue from the breasts to create a more symmetrical appearance and proportionate breast size in relation to the patient's body. This is accomplished by creating surgical flaps, meticulously excising tissue, and sliding the remaining tissue upward while tightening the lower half of the breast. Because the skin cannot be tightened significantly without surgery, removal of some skin is usually required. In rare cases, the nipple has to be removed and repositioned for better symmetry.
While the incision pattern employed for breast reduction varies from patient to patient, the most common type of incision is made around the nipple areolar complex with a vertical scar extending vertically down the bottom portion of the breast. An additional incision is sometimes added to this design in the fold underneath the breast (inframammary fold). The most appropriate technique and incision option for you will be described by Dr. Herring at the time of the consultation.
Breast reduction surgery can take up to three hours and typically requires general anesthesia. Often performed as an outpatient procedure, most women can return home under the care and supervision of a friend or family member later the same day.
What Is Recovery from Breast Reduction Like?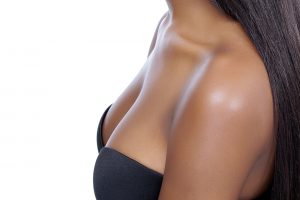 Recovery after breast reduction surgery is a relatively quick process for most patients. In fact, many women can return to work within two to three days as long as extreme physical exertion is not required. After about three to four weeks, all activities can usually be resumed.
There may be some bruising and/or loss of sensation initially, but these symptoms are temporary—bruising typically resolves over the course of one to two weeks, and the return of normal sensation to the breasts usually occurs within several weeks. There is some degree of swelling after breast reduction surgery, so the final size of the breasts is not observed until sometime later. The shape of the breast also changes after breast reduction due to tissue relaxation, and this is taken into account when planning the surgery.
"The procedure was quick. The recovery went well. The pain was more manageable as the days went by. I love the outcome of my breasts! They are just right for my body size."
Will I Have Breast Reduction Scars?
While it is possible to achieve a great size and contour with breast reduction surgery, you have to bear in mind that there may be post-surgical marks. Having said that, the scars for breast reduction are usually located below the nipple-areolar complex, which allows low cut dresses or bathing suits to conceal any signs of surgery. With proper care, the visibility of scarring will typically fade to some extent over time.
If you have a history of keloids, it is recommended that you talk to Dr. Herring about the extent of post-surgical marks you can expect before you choose to undergo the procedure.
How Long Does a Breast Reduction Last?
Results achieved via breast reduction are long-lasting in the sense that the breasts will almost always be smaller and more symmetrical than they would have been without the surgery. That said, there are certain medical conditions that can cause the breasts to grow after breast reduction—though these conditions are not common. In addition, large weight gain after surgery can cause the breasts to enlarge.
After any surgery, including breast reduction, the aging process continues. Consequently, if breast sagging increases over the years, some individuals may decide to get a breast lift (mastopexy) many years later to maintain an optimal breast aesthetic.
What Does a Breast Reduction Cost?
The cost of breast reduction surgery at our practice typically starts at $7,200. This includes Dr. Herring's plastic surgeon fee, anesthesia expenses, surgical facility charges, and prescription medications. Such a competitive breast reduction price is made possible by our accredited, onsite surgery center, which enables Dr. Herring to perform treatment in a facility that meets the same safety standards as a hospital while offering patients reduced fees, added privacy, and improved convenience.
For a custom price quote, an in-person consultation with Dr. Herring is necessary. At this time, he can develop a personalized surgical plan and provide a cost estimate based on the specifics of your proposed treatment. If desired, a member of our staff can also help you get started on the application process for plastic surgery financing, which can break the total expense of breast reduction into more affordable monthly payments.
Additional Frequently Asked Questions About Breast Reduction
How does breast reduction differ from a breast lift?
While breast reduction is very similar to breast lift surgery in that they both elevate the breasts on the chest wall, the primary goal of breast reduction is to reduce the size of the breast. As a result, a larger amount of breast tissue is removed in most breast reduction procedures, and a smaller amount of tissue is removed in most breast lift procedures.
Is breast reduction safe?
When performed properly by a skilled and experienced plastic surgeon, breast reduction is generally considered a safe procedure. Since skin and superficial tissue are removed without moving any organs or muscles, there are usually no significant risks involved. As a matter of fact, most women report experiencing little to no side effects apart from mild discomfort, bruising, swelling, and changes in breast sensation—all of which should be temporary.
Can I breastfeed after breast reduction?
Because some of the glandular tissue is left intact and connected to the nipple, many patients who have children after a breast reduction are still able to breastfeed. That said, if you have never attempted to breastfeed prior to receiving a breast reduction, there is no way to predict whether or not you will be able to breastfeed following treatment, as a small percentage of women are not capable of nursing in the first place.
What types of anesthesia are used for breast reduction?
There are two different types of anesthesia that are commonly used for breast reduction surgery. The first is intravenous (IV) sedation, which is given by an anesthesia professional and supplemented by local anesthesia. When the patient wakes up after breast reduction, the area of surgery is typically still numb for several hours due to the administration of the local anesthetic.
The second form of anesthesia used for breast reduction is general anesthesia. With this technique, the patient is given a different protocol of anesthesia and usually has breathing controlled by the anesthesia professional throughout treatment.
Ultimately, the type of anesthesia used is dictated by a combination of the patient's unique surgical case and preference.
Is breast reduction painful?
Most patients that get a breast reduction from Dr. Herring have very little discomfort after surgery and only take pain medicine for about two or three days. The discomfort from breast reduction usually does not prevent daily living activities the day after surgery.
Should I get a mammogram before my breast reduction?
If your primary care physician recommends a mammogram before surgery, then one should be done. If you are at the mammogram age and have not gotten one in your recommended schedule, then one can be obtained before a breast reduction.
Can I get a mammogram after breast reduction?
About three months after breast reduction, it is generally safe to get a mammogram. For years, physicians were concerned that the internal marks made during breast reduction surgery would interfere with the accuracy of mammograms. However, with the advancement in imaging techniques, it has become a lot easier to distinguish altered tissue from diseased tissue. It is very important to follow your primary care physician's advice on getting mammograms. Your mammogram report should be sent back to your primary care doctor and kept in your medical records.
Can breast reduction be combined with other procedures?
Yes—breast reduction is commonly combined with other plastic surgery procedures. For example, many women choose to simultaneously receive a tummy tuck and/or liposuction to more comprehensively enhance their figure.
Schedule Your Consultation
For more information about breast reduction, or if you would like to find out if this procedure is right for you, please contact Herring Plastic Surgery today to schedule a consultation. Dr. Herring and our team are happy to help!