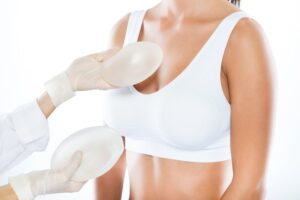 Cosmetic breast surgery is extremely popular in the US; in fact, breast augmentation is one of the most common aesthetic surgeries performed in the country,* and breast lift surgery (also called "mastopexy") is also highly sought-after. While mastopexy and augmentation can both produce a variety of aesthetic benefits, these two surgeries are very different in the way they are performed and the changes they can create. Stephen Herring, MD, our board-certified plastic surgeon, provides a brief overview of these differences below.
Firstly, it's important to understand that breast augmentation was developed particularly to increase the size of the breasts (though it can offer additional aesthetic benefits, as well). This surgery involves the placement of implants, filled with either saline or silicone gel, into the breast tissue. Depending on the patient's anatomy and cosmetic goals, the implants can be placed above, below, or partially below the pectoral muscles and glands.
On the other hand, breast lift surgery was designed specifically to combat breast sag, which is known in the medical world as "ptosis." This procedure can involve removing excess skin and repositioning the breast tissue to a higher, more youthful position on the chest in order to encourage a perkier, firmer breast appearance.
Just as a breast augmentation alone cannot combat ptosis, a breast lift alone cannot enhance breast size. For this reason, patients frequently opt to combine these two procedures for a comprehensive enhancement of the breasts.
If you are interested in obtaining a fuller and more youthful-looking figure, Dr. Herring can meet with you to personalize your care – whether you are a local patient or visiting from out of town. Contact our practice to schedule a consultation.
Previous Post