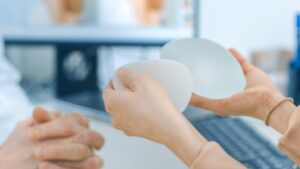 Breast augmentation is one of the most popular elective Plastic surgery procedures. The specific treatment plan for each patient is "customized" because no two patients are exactly alike anatomically. In addition, patients seeking breast augmentation may have different goals. One of the primary considerations in planning the breast augmentation is choosing an implant size. Ultimately, this is a decision made by the patient with guidance from the Plastic surgeon. There are reasonable upper limits to the implant size based on anatomic factors, and the goal is not to be "as big as possible." The simple goal most patients have is to be in proportion so that they have a good shape in clothes and bathing suits. Being in proportion is somewhat of a subjective goal, so some objective method of measurement to determine breast implant size before surgery is important. Breast augmentation, as with all surgery, is always performed with a plan. The approximate size desired by the patient is determined at the pre-operative appointment using CCs as a reference. There is no industry standardization for bra cup sizes—and cup size varies from manufacturer to manufacturer—but as a general rule the volume of one cup size is between 100 to 150 CCs.
Breast sizers are silicone devices in various sizes that can be used during the consultation to help the patient determine what implant size meets her goals. Breast sizers—both anatomic (breast shaped) and round—come in many sizes, so the patient has a large range to choose from. Breast sizers are simply placed in the patient's non-padded bra, a bathing suit top, a tube top, or any other form-fitting top to help determine the desired implant size. The breast sizers are in graduated volumes measured in CCs, which allows the patient to try on multiple sizes before choosing the desired implant size. 
Below are images of anatomic (breast shaped) sizers. These are placed in the bra or other garment to estimate desired breast size.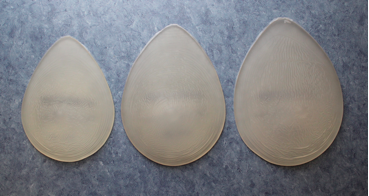 Below are images of a patient using breast sizers to determine desired breast size after surgery. The image on the left is of the patient with a sports bra, and the image on the right shows the patient with a sizer in the right side of the bra.

For more information about determining desired implant size with sizers, or if you are interested in breast augmentation, please don't hesitate to contact our practice today. Located in Fayetteville, NC, Dr. Stephen Herring is a board-certified plastic surgeon who is renowned for his skill and experience in breast enhancement surgery. Whether you live locally or are traveling from out-of-town, he would be happy to discuss your cosmetic goals and help you achieve the look you desire.
Previous Post
Next Post