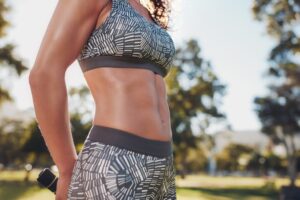 The abdominal muscle layer separates the "inside fat" (fat inside the muscle layer), and the "outside fat" (fat outside the muscle layer that you can grab). The muscle layer has a covering, which is termed fascia (connective tissue that surrounds and protects the muscle). The fascia layer is the deep boundary of the lower abdomen, meaning the fascia typically is in the base of the space created during the procedure. 
Abdominoplasty improves the body wall outside the muscle layer and its fascia, that is the excess fat and skin. Tummy tuck surgery removes 50% of the "outside fat" and skin that are most commonly located in the lower abdomen. The "outside fat" layer varies in thickness from patient to patient. Individuals who have significant amounts of excess skin and fat usually have the most dramatic results after abdominoplasty. 
During the procedure, the flap created in the upper abdomen is "advanced" (pulled towards the bikini line) to cover the entire abdomen. The advancement of this flap causes it to be tighter and thinner, which enhances the appearance of the abdomen. The abdomen is improved by the direct removal of excess skin and fat in the lower abdomen, and thinning and tightening of the remaining tissue as it is stretched to cover the abdomen. 
The belly button is also addressed during tummy tuck surgery. If the belly button has lax skin, it is tightened during the procedure. If the abdominal muscle is loose, it is also tightened during abdominoplasty. When plastic surgeons refer to "tightening the muscle" during tummy tuck surgery, they are usually referring to tightening the fascia layer (connective tissue that surrounds the muscle). Typically, the fascia layer is tightened vertically in the midline because this is the location of the fascia that most frequently stretches. 
If needed or desired, the flanks can also be improved during abdominoplasty. There are two methods for addressing the flanks during tummy tuck surgery. One way is by extending the tummy tuck incision into the flank area so the excess skin and fat can be removed. The second way is by liposuction alone. For many patients, abdominoplasty can address the abdomen and the flanks simultaneously. 
Since every patient has unique anatomy, the abdominoplasty procedure is customized for every patient. Evaluation of the unique anatomical characteristics of each patient is done during the in-person consultation. 
If you have any questions regarding abdominoplasty, we encourage you to contact Herring Plastic Surgery today. Our practice welcomes patients from our local area and out of town. We can help you schedule an appointment with our board-certified plastic surgeon, Dr. Stephen Herring, who is well known for his personal approach to body contouring procedures like abdominoplasty and liposuction. You can reach us by calling (910) 486-9093 or by filling out our online contact form!
Previous Post
Next Post