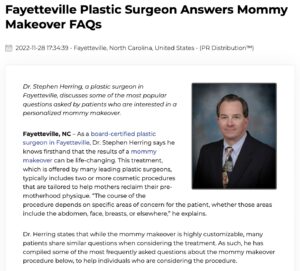 Dr. Stephen Herring, a plastic surgeon in Fayetteville, discusses some of the most popular questions asked by patients who are interested in a personalized mommy makeover.
Fayetteville, NC – As a board-certified plastic surgeon in Fayetteville, Dr. Stephen Herring says he knows firsthand that the results of a mommy makeover can be life-changing. This treatment, which is offered by many leading plastic surgeons, typically includes two or more cosmetic procedures that are tailored to help mothers reclaim their pre-motherhood physique. "The course of the procedure depends on specific areas of concern for the patient, whether those areas include the abdomen, face, breasts, or elsewhere," he explains.
Dr. Herring states that while the mommy makeover is highly customizable, many patients share similar questions when considering the treatment. As such, he has compiled some of the most frequently asked questions about the mommy makeover procedure below, to help individuals who are considering the procedure.
Who is a candidate for a mommy makeover?
According to Dr. Herring, candidates for a mommy makeover generally include mothers who wish to reduce some of the typically less-than-welcome effects that pregnancy, childbirth, and breastfeeding can have on the body. These aesthetic concerns are not limited to breast sag (ptosis); stretched, torn, or excess abdominal skin; dramatic breast volume loss or gain; and stubborn pockets of fat. "Candidates should be in relatively good overall health," says Dr. Herring, "and have realistic goals about the outcome of the procedure." He adds that prospective mommy makeover patients who smoke cigarettes should be prepared to abstain from tobacco before the surgery and throughout recovery.
When is the best time for a mommy makeover?
"In general, it is best for patients to be done having children before they undergo a mommy makeover," says Dr. Herring, explaining that subsequent pregnancies may disrupt the results of the procedure. "Those who are unsure about the timing of their mommy makeover should never hesitate to consult a professional medical opinion."
What can be included in a mommy makeover?
Dr. Herring states that the following surgeries are most commonly incorporated into the mommy makeover treatment:
Breast lift surgery
Breast augmentation
Breast reduction
Liposuction
Tummy tuck surgery
Arm lift or thigh lift surgery
Dr. Herring notes that while breast and body enhancement procedures are most often associated with the mommy makeover, facial enhancement surgeries are also frequently included.
How much does a mommy makeover cost?
"Just as the specifics of the surgery can vary, so can the price," continues Dr. Herring. He explains that the final cost of a mommy makeover will depend on factors such as the expertise of the surgeon, the location and quality of the operating facility, and post-operative garments and medications.
Moreover, Dr. Herring urges all patients considering a mommy makeover to perform thorough research before choosing a surgeon. "The results of the mommy makeover procedure greatly rely on the professionalism of the provider," he concludes. "Patients should never settle when choosing a mommy makeover surgeon, and should always feel free to ask as many questions as they feel are necessary."
About Dr. Stephen Herring
Board-certified plastic surgeon Stephen Herring, MD, DDS is known around the world for his forays into cosmetic surgery and extensive record of satisfied patients. Having been in practice for over thirty years, Dr. Herring is an alumnus of Woodward Academy at College Park Georgia, UNC Chapel Hill, and the Bowman Gray School of Medicine at Wake Forest University, where he also completed a General Surgery Residency and Plastic and Reconstructive Surgery Fellowship in 1989. At his Fayetteville practice, he performs a wide range of plastic and reconstructive surgeries, from breast enhancement procedures to tummy tuck to rhinoplasty. Dr. Herring is available for interview upon request.
To learn more about Dr. Herring, visit herringplastic.com and facebook.com/HerringPlasticSurgery.
Contact:
Herring Plastic Surgery
516 Beaumont Road
Fayetteville, NC 28304
(910) 486-9093
Rosemont Media
(800) 491-8623
www.rosemontmedia.com
Previous Post
Next Post