The abdominoplasty procedure gained popularity in the 1980s. Since that time, much research has been done by the plastic surgery community to improve the final results of this highly-favored treatment. Advances over the last 35 years have given patients many options for personalizing their abdominoplasty procedure. One of the aspects of abdominoplasty that allows customization is the incision design. The anatomy of the individual patient somewhat determines the length of the incision. The shape of the incision can be altered to some degree based on patient preference.
The modern shape of the incision for abdominoplasty has been influenced by the fashion industry, in particular, bathing suit styles. Previous women's bathing suit designs were made to cover the upper thighs. Throughout the years, bathing suit styles changed significantly to expose the entire lateral thigh. As the popularity of the new bathing suit designs increased, the abdominoplasty incision was altered. The modern design is sometimes referred to as the "French design" based on the fact that many fashion trends like the bikini originated in France. The modern incision design allows the abdominoplasty patient to wear (some) bathing suits that are "cut" higher on the side and conceal the scar.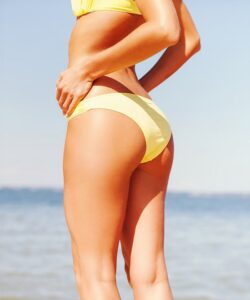 The traditional (conventional) incision design is displayed below. It is almost flat and can extend out to the upper lateral thigh, which makes it visible in some modern swimwear. The modern incision design is also displayed below. This represents the "French design," which is also sometimes called the "smile design" because it is in the shape of a smile.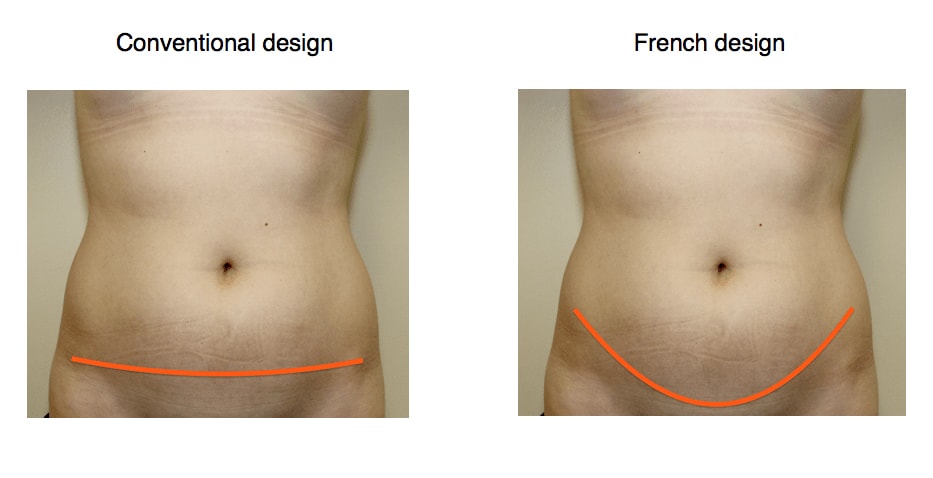 Note: This image shows a patient that is a better candidate for liposuction than abdominoplasty and is only used to illustrate the concept of the incisions.
The images below illustrate the difference between the conventional and French design incision as seen from the side. The conventional incision is lower than the French design laterally and more likely to be visible in the modern bathing suit design.
During the in-person consultation, Dr. Herring discusses the different incision designs in detail. After a discussion of all the options, the patient determines the shape of the incision that best suits their lifestyle. For men seeking abdominoplasty, the incision can be made flatter (similar to the first image above) because the swimwear concern is typically not an issue.
Every patient is unique, and Dr. Herring customizes each abdominoplasty procedure, taking into consideration the individual's anatomy. Dr. Herring evaluates the patient's anatomic situation during the in-person consultation. If you have any questions regarding the abdominoplasty procedure or other body contouring treatments, such as liposuction, please contact Herring Plastic Surgery. A knowledgeable member of our team can assist you further and help you schedule an appointment with Dr. Herring. Our practice welcomes patients from the local Fayetteville community and out of town. We look forward to helping you achieve your dream body.
Previous Post
Next Post