The recent breast implant recall has been widely reported in the media, and this update will help explain the details of the recall.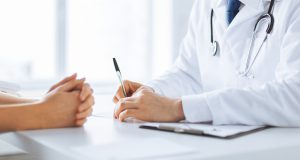 A very small number of breast implant patients can develop a specific type of cancer that is thought to be caused by a particular type of breast implant. This type of cancer is thought to be caused by a "textured" breast implant manufactured by the Allergan Company, and this disease entity was first recognized in 2011. In July of 2019, the Allergan Company recalled this specific type of breast implant.
There are several important related points that patients with breast implants should know:
The breast implant recall should not cause widespread panic. The cancer related to a specific type of breast implant is termed breast implant-associated anaplastic large cell lymphoma (BIA-ALCL), and it is thought to be rare at the present time.
Many patients that have breast implants do not have this type of textured implant, so for those individuals, this recall is a non-issue.
There may be some risk for developing BIA-ALCL with any textured breast implant product, including breast expanders (used in breast reconstruction). These issues are very difficult to study, in part because of the long latent period (time for the cancer to occur) for some diseases to occur.
Even if a patient has the textured breast implant type that is related to BIA-ALCL, developing the cancer is not a virtual certainty (it is not certain cancer will develop).
It is important to understand that BIA-ALCL is an evolving study with a potential latent period. BIA-ALCL is thought to be rare at this time, but it may be more common than currently believed because some existing cases have not been diagnosed yet, and some cases that will develop have not yet occurred due to a latent period. BIA-ALCL is being studied closely and, as data is gathered, concepts (prevention, diagnosis, and treatment) about this relatively new disease may change.
Some surgeons may choose to follow a "wait and watch" philosophy for patients that have textured breast implants. This approach is consistent with the current recommendation of the FDA. Other surgeons may recommend removal and replacement of textured breast implants, which is a more conservative approach. A patient's decision to watch and wait versus removal and replacement should be made after a consultation with a qualified Plastic surgeon. Patients with any type of breast implants should have regularly scheduled checks, and if a patient has textured breast implants, extra studies may be warranted. For women with textured breast implants, very close surveillance is prudent.
With patient safety paramount, Dr. Stephen Herring recommends removal and replacement of implants that are higher risk. While this advice is not consistent with current FDA recommendations, in his opinion, minimizing this risk is worth the time and expense incurred with removal and replacement.
For Dr. Herring's own patients reading this blog, he has never used the type of textured breast implants presently associated with BIA-ALCL for elective cosmetic breast augmentation. Therefore, based on data currently available, this is a non-issue for his patients.
If you would like additional information on BIA-ALCL and the Allergan breast implant recall, please feel free to contact our practice today to speak with a knowledgeable member of our team, or to schedule a consultation with Dr. Herring.
Previous Post
Next Post